Welcome to Chilliwack Epoxy Tables
Immerse yourself in the mesmerizing world of Chilliwack Epoxy Tables where the sheer brilliance of epoxy is seamlessly merged with nature's beauty. Our meticulously crafted epoxy tables are not just functional pieces but are true masterpieces, reflective of intricate design and unparalleled craftsmanship. The allure doesn't stop there; be captivated by our extensive range of live edge wood slabs, each telling its own tale of nature's majesty.
In the realm of countertops, we don't just offer surfaces; we provide durable, rustic-charmed countertops, ensuring longevity while adding an ageless elegance to your space. Our dedication goes beyond standard offerings. With a rich history of woodworking behind us, we have built a reputation of crafting tailor-made furniture pieces that resonate with individual tastes and preferences. Whether you have a unique design in mind or a custom woodworking request, our team is committed to transforming your vision into reality.
Combining the deep-rooted traditions of woodworking with the contemporary flair of epoxy, Chilliwack Epoxy Tables stands as a testament to innovation meeting artistry. We invite you to explore and experience this unique blend, where every piece echoes a symphony of tradition and modernity.
For those who appreciate craftsmanship, value durability, and seek a blend of age-old tradition and contemporary design, look no further. Join us in celebrating the union of wood and epoxy, and let's co-create furniture that speaks volumes about your taste. Take the first step and dive deep into the world of Chilliwack Epoxy Tables today. Your dream furniture piece is waiting to be discovered.
Ask for Randy Barber or Mitch when you arrive at the shop and please try to call in advance if possible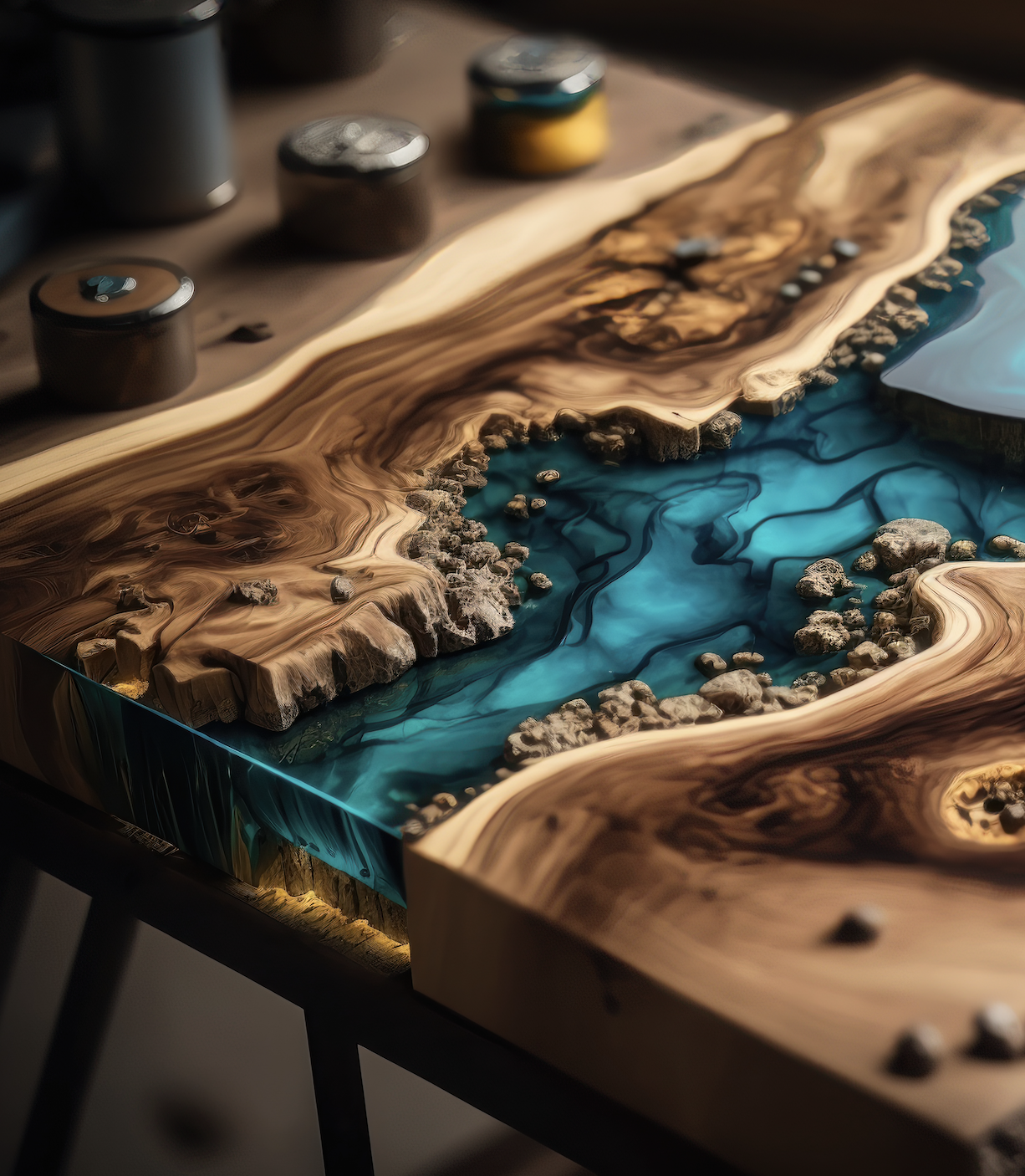 Back Story and History Behind Chilliwack Epoxy Tables
Nestled in the heart of Chilliwack, BC, Chilliwack Epoxy Tables stands as a beacon for exquisite furniture craftsmanship in the Fraser Valley. Conveniently positioned near the highway, our location is not only easy to access but also boasts ample parking spaces, making your visit as seamless as possible.
At the helm of this craftsmanship enterprise is Randy Barber, a native of Salmon Arm, who carries with him the legacy of decades of expertise in crafting epoxy tables and sculpting live edge wood slab masterpieces at Woody's near Pierres Point. But it's not just Randy who infuses life into these creations; alongside him are his trusty canine companions and his dear friend Mitch. This trio not only manages the woodworking shop but is always eager to engage with locals, brainstorming and discussing innovative ideas to craft custom furniture that can redefine spaces – be it homes or offices.
One of the remarkable features of Chilliwack Epoxy Tables is our full-fledged, in-house shop and manufacturing hub. Armed with cutting-edge equipment and a treasure trove of raw materials, every piece of furniture we produce is meticulously handcrafted, tailored to meet our customer's specifications. Furthermore, if you're in a rush or just exploring options, we also showcase our very own inventory of crafted furniture, ready for purchase.
Whether you are a proud Chilliwack homeowner, an entrepreneur looking to elevate your business space, or someone with an eye for exceptional furniture pieces, Chilliwack Epoxy Tables is your destination. With a promise to cater to your distinct and personalized needs, we encourage you to grace our shop.
However, a gentle request: to offer you our undivided attention and ensure you get the best experience, please consider giving us a call before you drop by. Rest assured, our doors are open all week, ready to transform your vision into tangible, timeless pieces. Don't wait – come down and explore what awaits you at Chilliwack Epoxy Tables.
Your next statement piece might just be a conversation away…
Fraser Valley's Best Variety, Selection, and Quality of Live Edge Wood Slabs, Always Available In-house and on Location
FAQs About Chilliwack Epoxy Tables